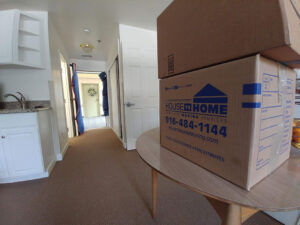 Now that you have had a representative from House to Home Moving come out to provide you with a FREE IN-HOME ESTIMATE, it's time for the movers to arrive.
When House to Home Moving arrives at your job, there's a few things you can expect!  The first thing you'll notice is the truck.  New and clean with House to Home Moving logos on it.  Next you'll meet the crew.  Professional, careful, courteous and experienced, they will introduce themselves and have you sign the work order.  You'll notice that they are all in a uniform, the crew leader in a black shirt and the remaining movers in a red shirt, so you can easily identify the person in charge.  Each person on your job also wears khaki pants to keep a professional appearance.  Before they start preparing your items to be loaded, they'll complete a walk through with you to verify items being moved.
Each truck and crew comes standard with the same equipment.  You can expect:
Wardrobe Boxes for your clothes hanging in the closet
Tools to disassemble and reassemble any furniture that may need it
Door protectors and floor protectors
Stretch Wrap for wrapping all furniture with doors and drawers
Furniture pads to protect your items during transportation
TV box to transport your flat screen TV
Proper dollies
Specialty items include but are not limited to:
Piano board – for moving upright pianos, baby grand pianos or grand pianos
Large dollies for moving safes and other large items
Packing materials
You'll notice as the team works together to get your job done, they have a specific order of loading your items to ensure protection and limit the possibility for damages.
The order of unloading items into the next location is the opposite of the loading procedures.  The team will remove the blankets, move items into place, remove the stretch wrap and discard any trash.  They will set up the bed(s), place items where you want them, unload the wardrobe boxes back in the closet and make sure you're happy with the placement.  The truck is checked to make sure nothing was left on it and the paperwork will be completed with you.
Now that you know what to expect from House to Home Moving, we hope to earn your business on a free in-home estimate.