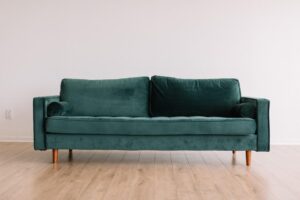 Moving and don't have space for that oak wardrobe? Simply schedule a furniture donation pickup and help out someone in need. If you aren't sure where to donate your furniture, we're here to help. From choosing an organization to scheduling a pickup, we've compiled the most important things to know about furniture donation pickup and deciding where to donate furniture. Get ready to feel good about purging your valuables!
The Benefits of Donating Furniture
Choosing to donate your furniture benefits both you and the environment. You can even get a little money for your contribution! So long as you keep the receipt, you can claim your furniture donation pickup or drop off on your tax return. Donating also avoids the risk of any fines associated with leaving your unwanted furniture on the curb.
As for the environment, Americans added 9.7 million tons of furniture to landfills in 2015 alone. If you're interested in keeping your furniture out of the landfills, there's hope! Since donating your furniture is a form of recycling, knowing where to donate your furniture is a great option. Want more to feel good about? You're also helping someone decorate their home and the sale of your furniture can even help others overcome larger obstacles than home décor. What's not to love?
Furniture Donation Pickup Requirements
What you can donate
The most important thing to consider when determining whether something is eligible for donation or not is its condition. Most donation centers require donated goods to be in good working condition and free of any tears, stains, cracks, or strong odors.
What you can't donate
That said, if something is in poor shape or has been defaced by your cat, for example, it will likely be refused by the donation recipient. Some organizations also have rules and restrictions on the type of furniture they'll accept. Goodwill, for instance, does not take mattresses or box springs. Once you've decided where to donate your furniture, be sure to double check their donation requirements.
Where to Donate Furniture
Wondering where to donate furniture and help a specific cause? When you donate to The Salvation Army, your furniture is sold at their Family Stores across the country. The proceeds from these stores are then used to fund The Salvation Army's Adult Rehabilitation Centers for those struggling with addiction.
Want to know how or where to donate furniture to The Salvation Army? Their website is easy to navigate so you can find a drop off center near your home or quickly schedule a furniture donation pickup online. If you're more of a phone person, you can also call for this information.
These stores resell donated furniture, building materials, appliances, and household goods. The money from these sales then helps Habitat for Humanity build comfortable, affordable homes for families across the U.S.
Considering a furniture donation pickup with Habitat for Humanity ReStore? Luckily, you can do everything online, including a search for your nearest store. Be sure to give them a call to confirm their hours since they vary from store to store. Then go ahead and schedule your free furniture donation pickup! Moving out? Be sure to call 1-2 weeks before your move date to get your donation picked up on time.
If you want somewhere to donate furniture that also stimulates the economy, Goodwill does an amazing job. Not only does the revenue from furniture donation pickups and drop-offs fund employment training opportunities, but it also helps support job placement services for people in communities across the United States.
With over 3.2 thousand stores in the U.S. alone, you're bound to find a location close to home with the help of their Goodwill Locator. Once you do, give them a call to confirm whether they offer furniture donation pickups for large items or if you should pack up your things and drop them off at one of their retail stores of donation sites.
This group advocates for veterans of the Vietnam War from every angle. Between offering vets financial advising and job placement to providing outreach programs and optimizing access to benefits, the VVA does it all. They use the furniture, clothing, and household goods from their donation pickups to provide Vietnam War veterans with the services they need.
Finding out where to donate furniture to the VVA is easy. Simply visit their website, select your state from the interactive map or by entering your zip code, and schedule a furniture donation pickup or drop off either by phone or online.
If you're looking for help discovering where to donate your furniture, FBANA connects your furniture donation to the furniture bank nearest you. Search for a nonprofit by location and even check out their stats. Want to know how many people they serve? FBANA has the lowdown. It's a helpful tool for seeking our smaller, local organizations that need donations.
Since FBANA serves as a database, once you find the right furniture donation pickup or drop off center for you, FBANA will direct you to finalize your donation through the organization's website.
Much like FBANA, Donation Town seeks out places for you to request a furniture donation pickup, based on your zip code. They specialize in charities and organizations that offer donation pick up services, and you can schedule it right there on the Donation Town website.
[siteorigin_widget class="WP_Widget_Recent_Posts"][/siteorigin_widget]
[siteorigin_widget class="WP_Widget_Search"][/siteorigin_widget]
[siteorigin_widget class="WP_Widget_Archives"][/siteorigin_widget]
[siteorigin_widget class="WP_Widget_Categories"][/siteorigin_widget]