House To Home Moving Blog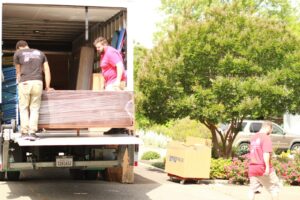 When moving, everyone needs a little moving help. Relocating comes with lots of decisions, including how to get your belongings from point A to point B. With various types of moving help available, it can be difficult to figure out what option is best for your move. That's why we've broken down the top four choices for you.
If you're looking for a more full service moving experience, hiring a full service moving company is a great option for you. Along with transporting your belongings, many moving companies offer several additional moving services. Knowing what tasks you need help with (and what your options are) will help you choose a moving company that fits your needs.
Packing and unpacking
Like moving labor services, full-service movers will also help you pack and unpack your belongings. While some people choose to do the packing and unpacking themselves, many moving companies offer a variety of packing/unpacking services. Whether you want a full packing service or only need help with the fragile items, moving companies will tailor their services to your needs. If you don't want to provide your own, many moving companies offer packing supplies such as boxes, padding, and moving blankets.
Loading and unloading
Whether you choose to pack your items yourself or pay for packing services, moving companies will load and unload your belongings. Since loading and unloading are arguably some of the hardest parts of a move, professional help will make a big difference.
When you leave it up to the experts, your belongings will be properly loaded to maximize space in the moving truck and ensure the safety of your property. Moving companies will also unload your belongings for you, making the transition into your new place much easier.
Truck driving
Full-service moving companies also handle the transportation of your household goods. If you're not comfortable driving a moving truck yourself, don't worry! Professional drivers will transport your belongings to your new home quickly and efficiently. When looking for a moving company, make sure you check whether they service local or long-distance moves.
Furniture disassembly and assembly
Hired moving help can facilitate so many aspects of your move — including furniture disassembly and assembly. If you're moving extra-large furniture, it sometimes needs to be disassembled before loading it onto a truck or into a moving container. If you can't deconstruct furniture on your own, many moving companies offer these services.
Insurance
You should pay close attention to moving insurance before booking a moving company. Moving insurance is technically called valuation (which functions like insurance). In the chance that your belongings are damaged or lost during your move, having moving insurance will give you peace of mind during your move.
Cost
The cost of hiring a moving company depends on a variety of factors, such as the size of your home and the distance of your move. Different insurance plans and the transportation of specialty items will also contribute to the final cost of hiring a moving company.
For a better idea of how much it costs to move, take a look at the industry averages for local and long-distance moves. The best way to determine the cost of hiring a moving company is to get a quote directly from the company.