Moving Options #1 Renting a Truck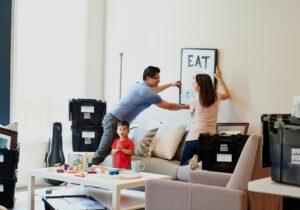 When moving, everyone needs a little moving help. Relocating comes with lots of decisions, including how to get your belongings from point A to point B. With various types of moving help available, it can be difficult to figure out what option is best for your move. That's why we've broken down the top four choices for you.
Choosing the right rental truck
You'll want to reserve a moving truck that fits with the exact needs of your move. For starters, are you moving locally or long distance? Certain moving truck companies will only rent out trucks for local moves, while other companies offer national truck rentals. While some companies start charging when you exceed a set mileage, others offer free, unlimited miles.
Along with the distance of your move, other factors that go into pricing include truck size, your pick-up and drop-off date and whether or not you plan on towing a vehicle. Use a moving truck estimation calculator to figure out what size truck you need.
Loading your moving truck
Loading your truck may seem intuitive, but there is a recommended method for packing a moving truck. When loading heavy items, you should pack them in an "I-formation" to ensure a safer and faster move. Starting in the front of the box truck by the cab, load your heavy items, like your washing machine and refrigerator. If you are transporting these items yourself, you may want some moving help from a moving labor service (unless you happen to have a team of very strong people on hand).
Next, pack your heaviest pieces of furniture in the middle of the truck. Slightly lighter items, such as couches or mattresses, can go to either side of the heavy furniture. Any other big boxes can then be placed in the back of the truck to complete the "I formation." If you need help finding boxes for your move, there are several places you can find free moving boxes.
Smaller bags and boxes should be loaded last, behind and around your heavy items. As for your valuables, it's best to keep them with you in the cab of the truck. Speaking of valuables, we've also got you covered if you need help packing your jewelry. Anything else you might need to access during your trip should also be placed in the truck's cab.
Driving a moving truck
Knowing how to maneuver a moving truck is crucial. Since the truck is obviously a lot larger than your typical vehicle, you'll want to take extra caution. To ensure a safe journey, you should drive slower than you normally do. Leave more space between your truck and vehicles ahead, take turns slowly, and apply breaks sooner so the truck has enough time to come to a complete stop. And of course, be cautious when switching lanes.
When moving, don't try to do the whole trip in one leg. Bring a friend or family member along and take turns driving. If your trip is particularly long, make sure to stop along the way. Driving a moving truck isn't too difficult, but requires caution and a good deal of attention.
Insurance options
Even if you're driving your moving truck carefully, accidents happen. Since regular car insurance doesn't always cover moving truck rentals, you should look into the insurance options provided by DIY moving truck companies. From Personal Accident Insurance (PAI) to Cargo Insurance (CAI), you can choose from several moving truck insurance plans.
When renting a moving truck, it's key that you know exactly what is and is not covered by insurance. Prior to purchasing a plan, read the details closely to make sure you're getting the best coverage for your move.