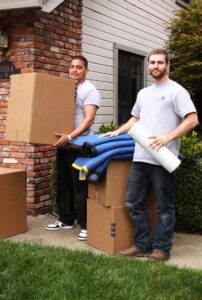 When moving, everyone needs a little moving help. Relocating comes with lots of decisions, including how to get your belongings from point A to point B. With various types of moving help available, it can be difficult to figure out what option is best for your move. That's why we've broken down the top four choices for you.
If you're driving a moving truck or renting a moving container, you may still need help loading and unloading your belongings. You can enlist friends to do your heavy lifting, but sometimes it's best to get professional moving help. Look into moving labor services for a speedy and safe move.
Packing
While it's pretty easy to find free moving boxes, packing up your belongings correctly can be a challenge. If you're short on time or are dealing with heavy items, it's a good idea to hire moving help. Professionals have the experience of packing items quickly and correctly and will help simplify your moving process. From wrapping furniture to packing standard boxes, professional packing help will keep your belongings secure and protected during your move.
Loading
Even if you pack your boxes yourself, you might want to hire moving labor to load your truck or moving container. Hired moving labor services can load even the heaviest items onto your truck. If you need to transport heavy furniture or appliances, you should look into hiring moving help. Hiring moving labor will ensure that your belongings are loaded efficiently and quickly. Professionals also know how to load your items in a secure, organized fashion. If you're in a time crunch, unable to lift heavy boxes, or are simply too overwhelmed, hiring professional moving labor will ease your move.
Unloading
If you need help loading your belongings into a truck or moving container, you're probably going to need help unloading as well. Moving labor services will not only unload your items but bring them into your new place and take them to their designated rooms. Some moving labor services will even help you assemble furniture and unpack boxes.
Insurance
When you hire moving helpers from a reputable company, they should be licensed and insured. Should anything happen to your belongings during your move, moving labor insurance ensures that you will be compensated for any damage or loss. Be sure to about insurance policies when looking for a moving service. If you end up needing to file a moving insurance claim, we recommend preparing to do so prior to your move (just in case).
Cost
Moving labor services charge by the hour. For two movers, you should typically expect to pay around $140 per hour, with each mover earning $70 per hour. Still, different factors go into the exact cost of labor. For instance, moving labor services may charge extra for particularly challenging items. If you're moving a grand piano or bulky exercise equipment, be prepared to spend a little extra.