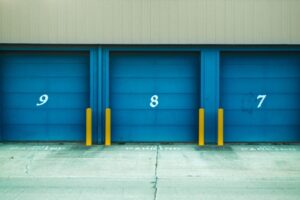 So now you know how to pack and organize your storage unit. But what if you have too much stuff, and you don't want to up the size of your storage unit? Here's how to maximize your storage unit's space!
Maximize your storage unit's space by starting at the bottom
The best way to maximize space in your storage unit is to start at the bottom and stack up. Put your heaviest boxes on the bottom layer. Then work your way up to the top, putting your lightest items there. Just remember to leave an aisle to walk through your storage unit and to keep necessary items accessible.
Maximize your storage unit's space by installing shelving
Did you know you can install shelving in your storage unit? You can purchase hanging shelves and temporarily drill them into the wall, or get large plastic or metal shelves that stand on the ground. This can help organize large or oddly shaped items that won't fit in boxes.
Maximize your storage unit's space by using furniture
When you pack furniture for a storage unit, take it apart as much as possible. For items like dresser drawers that can't be broken down, pack smaller boxes and fragile items in the drawers and underneath. Get creative!
[siteorigin_widget class="WP_Widget_Recent_Posts"][/siteorigin_widget]
[siteorigin_widget class="WP_Widget_Search"][/siteorigin_widget]
[siteorigin_widget class="WP_Widget_Archives"][/siteorigin_widget]
[siteorigin_widget class="WP_Widget_Categories"][/siteorigin_widget]