House To Home Moving Blog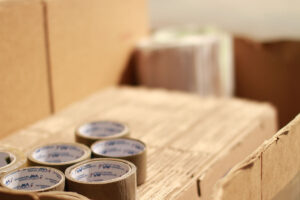 Because of their odd shape, lamps can be a challenge to pack. But, since they're fragile items, it's very important to make sure they're packed properly so that they travel cross country to your new home safely and securely.
Remove the lampshade and harp. Unscrew the finial to remove the lamp shade, then remove the light bulb to remove the harp (that's the metal "U" that holds the shade). Set them aside.
Discard the light bulb. It's very fragile and most likely won't make the trip. Leave them for the new homeowners/renters, or share them with neighbors if they still have life!
Cover prongs with foam to protect base. Those metal prongs on the cord can potentially damage the base of the lamp. Take a spare piece of foam and use it to cover the prongs. If you don't have foam available, you can also wrap the prongs in packing paper or bubble wrap and tape securely.
Gather the cord. Bundle the cord together to keep it secure.
Wrap base with paper padding. Place the base in a corner of the paper padding, and wrap it like a lamp burrito. If you prefer, you can tape it together to keep it tight, but that's not necessary. If you do chose to use tape, be careful not to tape to the lamp base.
Place it upright into a box lined with packing paper. Crumble packing paper into the bottom of the box for padding, and then place the lamp base inside. Taller lamps may require you to use a lamp box.
Wrap the harp and finial in packing paper. Protect these pieces by wrapping them in packing paper, and taping the paper to keep it secure.
Add finial and harp to the box. Keep the parts of the lamp together by placing them in the same box.
Fill box with packing paper You can place multiple lamp bases in a box, just remember to fill the box with crumbled packing paper before taping it closed.
Pack shades in a separate box. Lamp shades are fragile, so use a different box just for shades.
Line this box with packing paper. Take a few pieces of crushed packing paper and place them inside the box for padding.
Place the shade inside the box. Place them upright, rather than on their side for protection and to make nesting multiple shades easier.
Line with more packing paper. Take more paper and place it inside the shade.
Nest shades inside each other. If you have multiple shades, you can nest them inside each other.
Fill the gaps with crushed paper. Ensure a tight fit by placing packing paper around the before taping it closed.